Children are bundles of joy and energy. This energy needs to be put in a good use. You must have seen that kids have vast imagination. They can come up with things and ideas that we cannot even believe. Their innocence makes them believe and wander off in their imaginative world to a separate universal. This is where Pretend Toys are great! There are many varieties like kitchen toys for kids, make up set kit toys etc..
Why Pretend Toys?
Kids have great minds that are budding with ideas. We as parents have to encourage and enhance their imagination. For this we should provide kids with tools and toys that they can use to make their imaginative world more realistic. Pretend toys are used in these types of games. These toys help the child to feel more realistic in their imagination as the toys are the size of their hand.
The size and weight of these pretend toys is just perfect for the child to play with. Kids like to do role play and behave just like their parents or any elders around. It is a great time pass for the kids.
They can use their imagination in the best way and come up with creative set ups. When kids get these pretend toys they try and create a small set up with boxes, books or bed sheets. Virtually anything at hand is used by kids to help them make a castle, a doctor chamber or a building site. These small pretend toys are ways the kids express their dreams. You never know they may really become a doctor or an architect like they are pretend at the moment.
A few ideas for the pretend toys are
So here are my list of some cool pretend toys!
Fun Blast Tool Set Toys for kids
This set is made of strong and kids safe material. This set shall allow the child to create things imaginatively. The set comprises of saw, screw, screw top, timber, screw driver, wrench, mallet, riggings etc. The kids can create stuff just like grown up people. Using these tools with their own hand will give them a realistic feel. They will role play as an architect, builder, electrician or any other form of person related to construction work.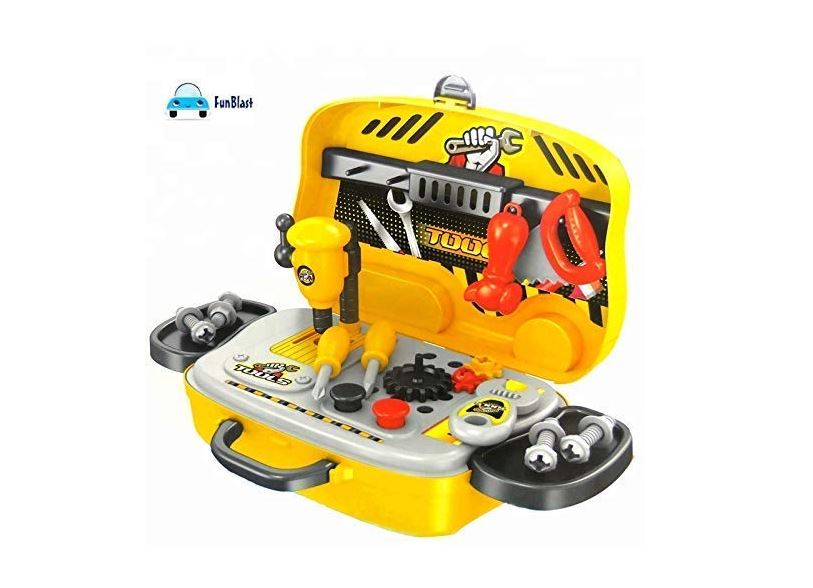 This set will also help them respect the hand work labour put in by these officials when they actually come over to our home. The toys are made of non hazardous material and are light weight for the use of kids. Edges are smooth so even if young ones are around, it is ok to play with them.
Smartcraft Ice cream play cart
Every child loves ice cream. So do they love the ice cream van or trolley. This toy allows them to pretend selling and buying ice cream. There are many colourful ice creams, four wheel truck, frozen custard, ice lollies.
They will learn to differentiate on the basis of colour and so on. All the toys are soft and smooth edges. They are made of safe material and very light weight so that it is easy for the child to handle. It is safe for age three and above.
Ramakada supermarket shop play set toy
This is basically a grocery store set up. The kids can play as cashier or one who wants to buy stuff. They can learn skills like essential items aptitude, basic reasoning and calculative aptitude.
They can learn to arrange stuff according to departments or needs. The kids can enact and enjoy the shopping experience at a shopping mart.
Webby beauty set for girls
All girls love to get dressed up and also dress up their dolls. They love to do pretend make up just like their mother. This set gives them a feel of the real life equipments used to get ready.
There are little brushes, lipsticks, eye shadow, curler, blow dryer, mirror etc. Also there are small embellishments which she can use to beautify and do different hair styles on herself. It is quite harmless and engaging toy set. You can gift it to your daughter; it is suitable for 3 years and above.
Plastic medical set
This set will allow your child to play pretend doctor and also get the feel of it. Kids can check your temperature with a thermometer or look for heart beat in their dolls. There is stethoscope and light and all the other equipment needed for first aid. There are scissors and tongue etc as well.
Kids will learn the care and love that medical staff has for the patients. They will learn social skills and also learn the skill of patience along with respect for all. The kids are easily engaged for quite some time as they can set up a clinic for their toys and have a doctor check up day. They toys are made of safe quality plastic and can be given to kids 3 years and above.
Kitchen set
This set usually comprises of all the utensils present in a basic kitchen. The set also comes with oven fridge and much more. The kids can set up a kitchen in the corner and play. It helps them realize all the effort a mother puts in to prepare a meal and all the work to be done before and after.
They learn to work together and prepare meals that they love. Kids generally set up a restaurant for their parents and serve them food. They can be engaged for a long time. The plastic is generally food safe as kids may put it in their mouth. It safe for age three and above.
---
As parents you have to do a lot for the kids. Buying pretend toys is another step in parenting. Remember to buy age and gender specific toys. Always ask your kids for opinion, and buy products that are made of good quality plastic. Make sure you do not buy too many small pieces for your young one, as they just might swallow a nut or screw. Have a happy time playing with kids. Find some time to introduce them to the toys and then they can be left alone to enjoy.
Looking for STEM toys – Check this out
Check out these outdoor toys and games