Tricycle for kids – Best tricycle for 2 year old India : It is super important for kids to play and have fun. When they do so they are learning.
This is the way they understand the world and a tricycle is an important part of play activity during their initial years.
Fortunately, kids love to play and naturally use their muscles.
Give your toddler a cute set of wheels to meet outdoors. Many parents who ride bikes like to include their young children.
Riding tricycles is also a fun outdoor activity for preschoolers age 2 and older.
So let us look at Best tricycle for 2 year old India.
Tricycle for kids – Ready to jump on a tricycle?
When your child grows out of babyhood, she or he will want her / his own tricycle, and they will be exposing themselves to a variety of dangers when they get one.
For instance, a child on a tricycle is so low to the ground that a motorist who is backing up can't see her. But still riding trikes and bikes, though, is almost an important part of growing up.
When you have children who are not happy with playing in a play space, you can check out tricycles for children.
Since they fulfil their needs for play, they are the ideal toys for active children.
In terms of activity, there are very few toys that can equal them and many parents will tell you that they are the most appropriate toy for active children
But why should you, in the first place, fulfil your children's need for activity?
You have to ensure that they have an outlet for all that energy, unless you want irritated and upset children.
It is in your best interest to promote that all that energy is released by enthusiastic children, or else they will be crying and throwing tantrums inside the house.
Safety measures to protect your children while buying a tricycle
To avoid injury from these activities, consider the following safety measures to protect your children.
Don't buy a tricycle unless it is physically capable of carrying your boy. Around age three, most children are ready.
Purchase a tricycle that has big wheels and is built low to the ground. Since it is less likely to tip over, this form is better.
Get a bicycle helmet that suits well, and teach your kid to use it every time she bikes.
Only in safe areas should tricycles be used. Do not allow your child to ride near cars, driveways, or pools.
In general, before about age seven, kids do not have the balance and muscle strength to ride a two-wheel bicycle.
After age six, most kids can comfortably start to ride a two-wheeler with training wheels, but not before.
Then, make sure that they wear an appropriate bike helmet to protect your child from injury .
Check out the different children's tricycles, so you can see for yourself how your enthusiastic kid responds to them.
Consider the different options and pick the right one and watch your kid have fun with it.
Motor skills
Five different elements are involved in motor skills
strength,
coordination,
endurance,
a sense of three-dimensional space, and
the ability to sense the world around us,
All this is used to direct how the body moves.
There is only one way for motor skills to be improved – learn and apply!
Creativity
We have never had a better excuse than we do today for being excited about playing.
We want our kids to be imaginative, innovative and creative. This is now a ever growing demand from parents!
Cycles inspire children to play in creative and exciting ways using their imagination, and give them greater scope.
Social Skills
It starts off with a tricycle ride. Kids make group and ride together. They have fun together. All this adds to building social skills of the child. It makes him or her more outgoing and social.
Hand-Eye Coordination
Vision, vestibular system (balance), proprioception (joints and muscle), cerebellum and all other senses are usually activated by this activity.
Cerebellum, when navigating by physical and visual feedback, refers to hand/eye and foot/eye coordination, which are skills in high demand.
Check out some of these cool and best tricycle for 2 year old India
So let us look at some cool tricycle for 2 year olds. These are available on almost all online market places.
R for Rabbit Tiny Toes Grand Baby Tricycle
This is #1 from my perspective for Best tricycle for 2 year old India
R for Rabbit Tiny Toes Grand Baby Tricycle Smart Plug & Play Stylish Tricycle for Kids Storage Basket,Parental Control Handle & Durable Rubber Wheels for Kids|Boys|Girls of 1.5 to 5 Years(Yellow)
Get this tricycle at an amazing price – click here
---
Thomas & Friends Tough Trike
This is one of the coolest tricycle I have seen and I am very much sure that your child is going to love it.
Look at this cool photo. Get this wonderful gift for your child . Click here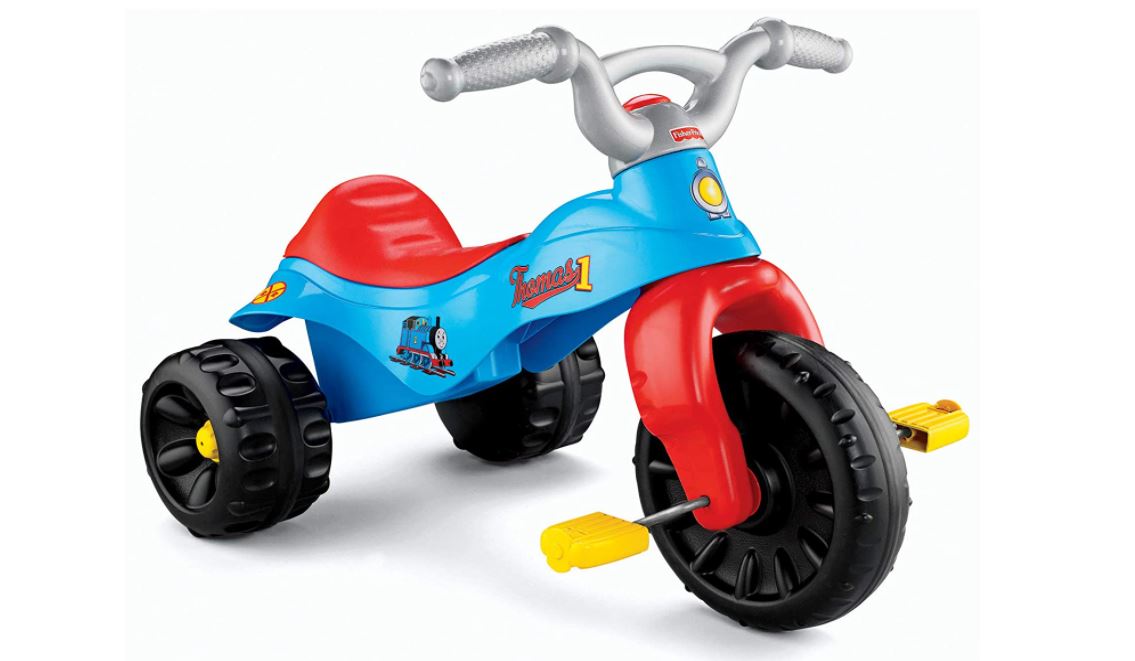 ---
This is one of the cool Best tricycle for 2 year old India. Do check this Thomas and Friends tricycle !
Luvlap – 18638 Elegant Kids Tricycle
Luvlap – 18638 Elegant Kids Tricycle with Push Bar, Full Metal Frame & Anti-Slip Pedals, 1.5 to 5 Years, Carrying Capacity up to 25 Kg (Orange)
This orange color tricycle looks just perfect. Know about it more here.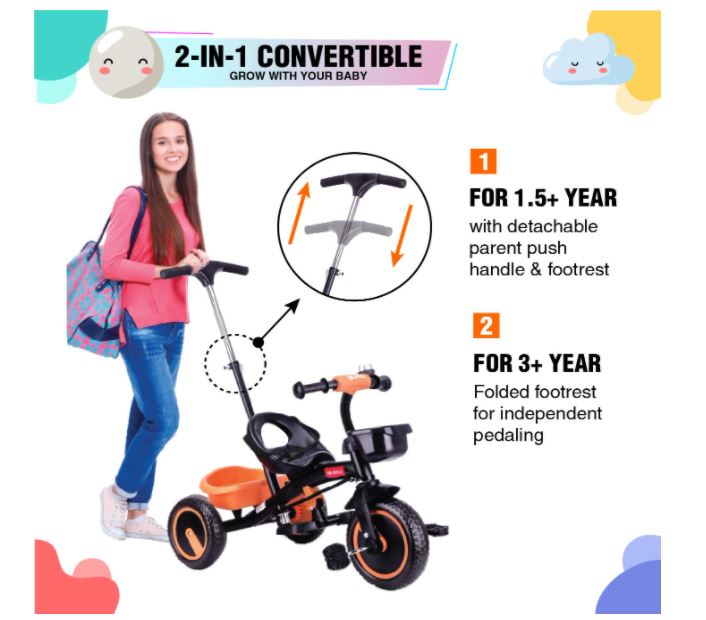 ---
R for Rabbit Tiny Toes Striker
R for Rabbit Tiny Toes Striker – The Plug and Play Tricycle for Baby/ Kids with Striking Looks and Reversible Seat & Rubber Wheels (Green Black
This is another nice tricycle from R for Rabit. Check it out on Amazon.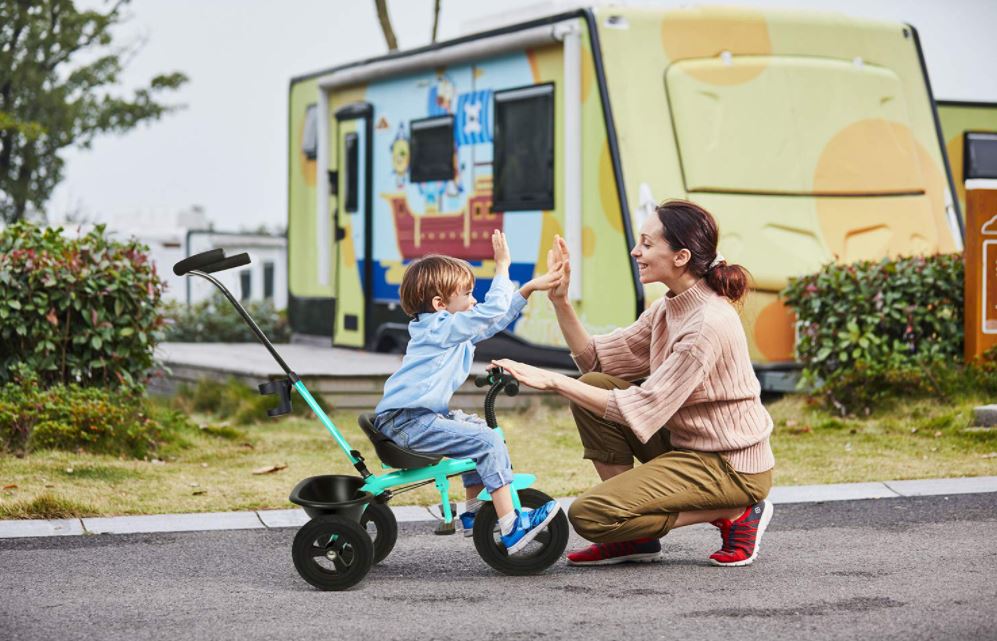 ---
Schwinn Roadster Tricycle
This tricycle is probably one of the best your little angel can have. Though a bit high on price, this is very stylish and high quality and attractive bikes in market.
Check the latest price of this one.
---
Conclusion
Tricycles are an important part of growing up. Give your little hero and little angel one of these lovely tricycles and her enjoy the outdoors on his/her personal bike !!
---
You may also like: Waveboarding – let your little one surf the road