Do you have a little engineer in your family? The most interesting thing for them is to assemble something and then de-assemble it. Let us look at Mechanix Toys!
Mechanix toys have understood this quite well and there are many DIY sets from Mechanix which are quite interesting.
These are a perfect gift for your little engineer!
So what are Mechanix Toys Set?
The MECHANIX Little Engineer Construction Set, includes various parts and components can be used to make great Construction Vehicles.
A very nice way to engage your little engineer. What I love about this set is the amount of interest it generates in the children.
So for a child with engineering mindset, this can be a perfect gift.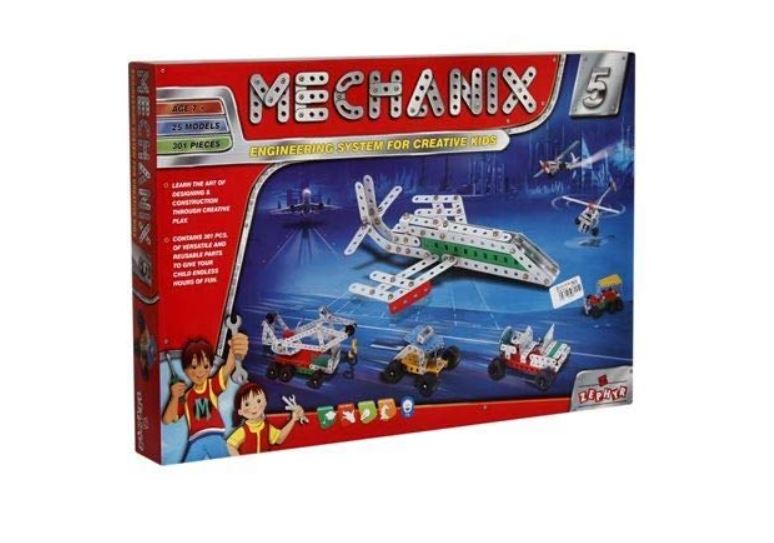 How does Mechanix Toys help in development?
As I have mentioned I feel that these toys are one the best methods to engage kids. The kind of options it offers can easily engage them for couple of hours.
But, apart from engaging the kid, this also enhances kid's
Fine motor skill
Hand-eye coordination

definitely as they need to assemble the toy to give it a right shape.

Logic & Reasoning

They should judge which piece fits in where

Observation and
problem solving skills

Assemble and then de assemble. Make various shapes etc improves their problem solving skills
Why Mechanix Toys are cool?
There are many kid of various sets from Mechanix. The best thing of Mechanix set are
Made up of Metal
Made up of metal or high grade plastic – so they are not breakable. This is one thing I like most about this toy.
It is made of high grade metal and some part of it is made up of high grade plastic. All these makes this toy kind of unbreakable.
And this is needed most because kids will assemble and disassemble it again and again.
Easy to assemble
This is where the thoughtfulness has gone into the design.
It is very easy to assemble and that too multiple shapes or figures can be made using juts one set.
So you will see design for a car or a train or an aero plane, possible using the same set.
This makes this toy super cool and interesting for kids.
Bright colors
The toy comes in very bright colors and colors are safe as well. This attracts the kids. This makes the look of the toy very attractive.
Does not has sharp edges
Another good thing about the design of these toys are that these toys do not have sharp edges. This is very important from safety perspective.
We cannot expect kids to be super careful in the handling of a toy and hence a toy like Mexhanix is very good in their design.
With no sharp edges, these toys are very good for kids of any age.
Feel & Finish
Finished perfectly for the ideal feel and finish.
The quality is quite evident. You will love the feel and finish of the toy as soon as you take it in your hand.
Battery Less Operation
No Battery required. This is also a good feature of this toy that there is not dependecy on the battery making this toy a very good play material.
Honestly I am not a big fan of battery toys. I feel that non battery toys serves the purpose of childs development better.
What is your view on this. Do let me know your comments !
---
Contains a step by step manual to enable your child to learn the basics of fitting and guide him through the process
Mechanix Toys Set online price
All Mechanix sets [roomettes the concept of logical play. So challenge your little engineer with these high quality DIY kits.
Do Check these out!