Who doesn't k now about Gulel. A classic "Y" shaped toy which has been very popular with all the naughty kids around.
Where else you would have seen this? Remember old black and white movies 🙂
Gulel in english
So what is Gulel called on English ?
Not only in India, it has been in use in other part of world as well. Called as "Slingshot" or "Hand Catapult" in Europe/US, "Ging" in Australia/New Zealand, Kattie in Africa etc.
How Gulel Looks?
A classic gulel consists of a Y shaped frame, traditionaly this Y shaped frame was made up of wood, but now days it also comes in plastic moulds. There a 2 rubber strands attached to the top of the two arms in the frame ("Y"). The either the string is a flat rubber strip or the string is attached to a pocket. And this pocket is used to hold the projectile.
Gulel Wala Game – How is it played?
Hold the project in dominant hand and the frame in other hand. Pull back the projectile. Take the aim and release the projectile. The projectile moves due to force generated by tension in the string.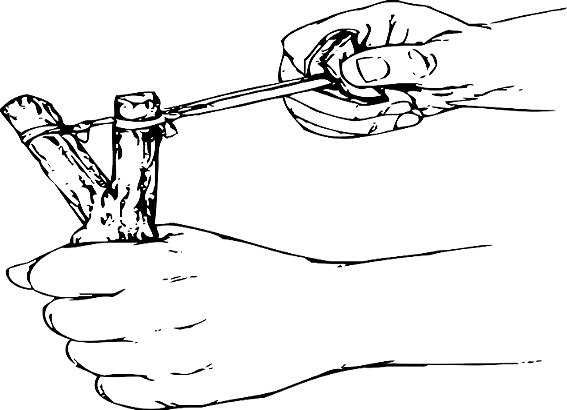 A Gulel is a nice fun toy for kids.
The simple cool toy of past now comes in various interesting colors with colorful and bright painting on the frame.
It now comes in plastic mould as well apart from wood. Though traditionally it has been made in wood only.
Gulel is generally a safe toy. Comes in various sizes and strings with varied tension for kids of different age group. But still it is better to be careful as projectiles may cause eye injury.
How to make Gulel at home ?
can you make Gulel at home? of course you can and I am going to tell you how?
What you need and what you need to do ?
1) A "Y"- shaped wood – this you can get from trees around you. Look for branches which are thin and have multiple other branches branching out. Look at the picture above.
2) A find a thick elastic band. This elastic band is going to work as a sling. What you can use – may be a thick rubber band, or medical tubing or any hard elastic can be used.
Cut it into two equal size. You need to tie this on the both the sides.
3) so you have now one end tied to the elastic band, but other end is free. Take a square shaped hard leather cloth etc and make a hole in it at both the sided.
Tie the other end of sling / elastic band into this. Do this both the sides and you have " Gulel at home " ready !
Gulel Online
Surprisingly Gulels are available on online sites lile Flipkart, Amazon etc.
You may also like : Robot Toys
Have you not got one for your kids yet? Get one GULEL for yourself and one for your little hero and re-live your child hood 🙂