Do you still remember this toy from your childhood. My childhood days were spent in my village. Though I do not remember using it myself (of course how can I:)), but I have seen it lying at my home in my village and my grand mother used to tell me that I used it when I was two years old. Do you remember this traditional Indian Baby Walker? The traditional wooden walker for baby!
Today when I stumbled upon the old walker (lying in the store, it was a three wheel wooden walker for babies), which I had for my kids, I remembered this very old wooden walker which seems to have been forgotten. We all have moved to cities and many traditional toys are out of sight now. And as we all know out of sight is out of mind 🙂
I did not get this for my kid, which I feel now that I should have. But I thought of writing on it today, to remind my regular readers on natkhatduniya that we in our country had this walker for long long time.
Why a traditional Baby Walker?
Our traditional indian baby walker is a very scientific one. Look at the picture below.
A good three wheels on a "right angled" triangle shape wooden frame. Provides perfect balance. Light in weight is has many benefits over the regular walker you get in market where baby sits in the walker and then try walk.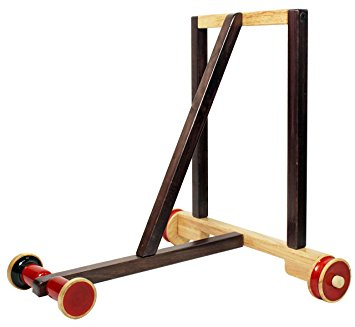 Benefits of using traditional indian baby walker
Below are some of the benefits of using old style wooden baby walker.
Traditional Baby walker is more Flexible
In regular walker babies sit and walk when needed or when they want. They are just stuck in the walker. But in the traditional indian baby walker they are free to leave it, hold it, walk using it when they like. At this age babies need to walk, crawl, climb etc and they should not be stuck like it is in regular walkers you get.
Exercise of upper leg when using traditional baby walker
Exercise of upper leg (thighs )- You agree that walking will help kids thighs strong right. Now look the traditional walkers, Kids are actually sitting is that and when they walk they use most of their lower legs. But in the traditional Indian Baby walker, they need to stand and push it. So it makes them use their upper portion of the leg as well. This means a better exercise for the whole part of the leg.
Effort – An important consideration
Effort – with regular walkers the effort needed to walk is not much. For example a toy is lying on sofa and your kid wants it. He/She is in a regular walker. Will just walk till sofa and pick it up. Now imagine our traditional walker. He/She would use it to walk till sofa, but to get the toy will have to climb on sofa to get it. Which one better? You decide!
Traditional Baby walker means more learning – they see and walk
Last but very important. When they are learning to walk, they need to understand what walking is. How their legs move. In regular walkers in market, they don't even see their when they walk. But in the traditional one they have this liberty.
---
There a re may traditional toys and games we used to pay when we were kids. Do you remember those. Check these out. You may like these readings:
Three indian popular board games and their very popular modern version : click here
Do you remember Pithoo? Have you played one. Check this out
The popular Lattu – Have you had one when you were kid? Click here
---
Why should you get one today?
Today these traditional baby walkers have become more innovative and not just as simple as they used to be before. Today they are more attractive and come in various shapes and colors. Look at the picture below.
Many a times these walkers have modern look like in shape of a boat or car with four wheels. While many are 3 wheels ones.
Many of them will also have a local element of local culture in them which you can feel. For example a walker in Gujarat or Rajasthan will have a different color pattern than a walker from Bihar, UP or Karnatka.
But one thing is for sure, you will find them across the country and all cultures had this is some form or other.
You can get one from Amazon ( best baby walker india )
Conclusion
Whether we should give a walker to the kid or not, this itself is a debatable topic. I am not against it, but I feel that I should have given my kid our traditional walker which I feel after researching on this topic, that it is more scientific and beneficial. Any comments? Do write back!