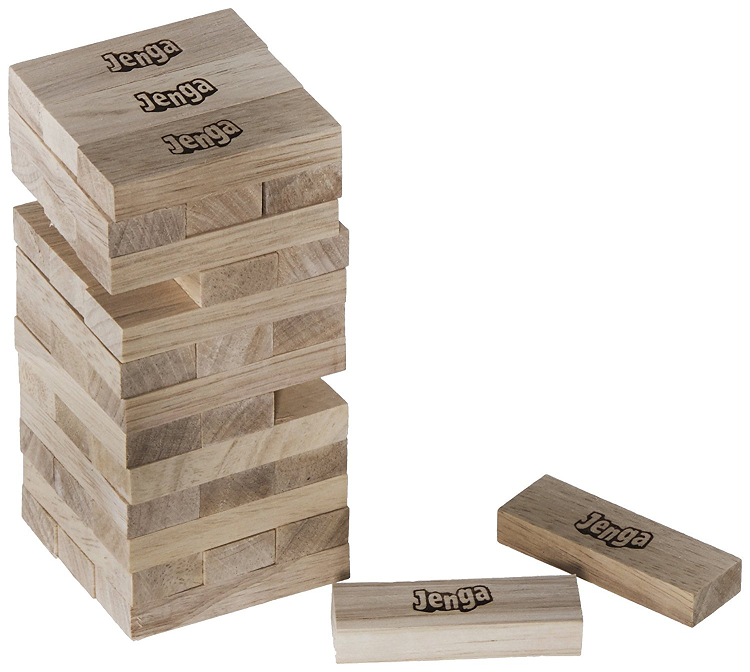 This is interesting. A very simple game, but fun to play with the family. It is called as "Jenga".
So what is Jenga? It is a very simple game of wooden blocks which tests your physical skill. It has around 54 wooden blocks, which needs to be stacked one over another. Rules of the game is very simple. In-fact there are no rules at all. Just stack the block vertically making sure they do not fall down.
The blocks may have some small variations to create some imperfection which adds some additional challenge to the game.
The fun part of the game is after the tower is built i.e the second part of game, which involves taking out one the block from middle (any block after the topmost one) and placing it on the top and make sure that this does not break the tower in the process.
[amazon_link asins='B00ET0MPGO,B01MTQUAJU,B009ZC9WU8,B071DCT8MZ' template='ProductCarousel' store='010c7-21′ marketplace='IN' link_id='8e79f25c-7f5a-11e7-9b22-09f49178195a']
A very simple two part game, but real fun which can be played with parents, grand parents any one with in the family 🙂
Another good part is that these are light weight and smooth edged wooden blocks which do not pose any risk of getting hurt!
So do give this game a try. I am sure your kids will love it and so will you!
You can check these out here
Cheers!
skumar
//natkhatduniya
1,740 total views, 4 views today