Toy Storage: Kids are home these days, so it means playing the whole day.
But this results in a mess over the whole place. Mom's are generally the ones picking up after them. So to ease out the job you can use different kinds of toy storage.
Also ask your kids to place toys in the storage once they are done. Come after a fixed interval and make them do this cleaning for themselves.
Look at these – aren't these really cool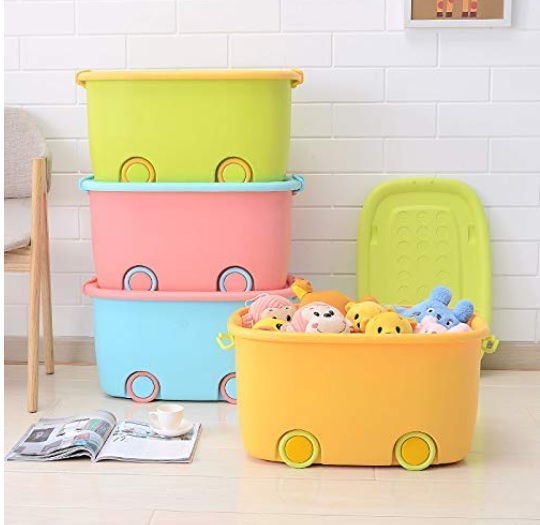 It will not just inculcate the habit of cleanliness but also give them a sense of responsibility.
Cleanliness is next to godliness can be taught from a very young age.
Toy Storage helps a lot. Kids can separate toys as per size, or type or any way that they want.
Considerations for buying best toy storage for kids toys
Once they are done putting it back in toy storage bag, it will simultaneously keep the place clean and also give them a good habit of being organized.
This will encourage them to be more and more organized in life ahead as well.
With these small gestures you can be instilling great values for the future.
To encourage them to keep things sorted you can also give them a treat or two as a reward when they do their job well.
Having said all that here are a few ideas of organizers for your young ones. The best qualities you should look for in the organizer are as follows:
Stores maximum toys at once.
User friendly, ease access for kids.
Looks playful, inviting and colorful.
Light weight so that it can be moved around if needed
Less expensive.
Check out few of these toys storage designs
Here are a few options:
Free standing Toy Storage
light weight stands are installed and big baskets are placed over these shelves.
The baskets can be same size or vary as per the requirement of toys your child has.
Prefer an angled shelf as it will be easy for the child to see before taking out the toys and they will not pull out everything in search of any one particular toy.
You can also label the boxes for the ease of segregation and use of kids.
Hanging model Toy Storage
there can be cloth racks hanging from the ceiling and the parents can easily fill in the stuff.
This is a good option if your kids are very young as they will need space to crawl or walk near the floor and when these racks are held up high it will not create hazard for the kids.
This design shall solve your space problem as the same space is used below for playing and above for storing.
Angled bins:
these are big sized bins generally made of plastic so that they can be carried around if needed.
The angular design helps to peep inside rather than spill all the contents to find what the child is looking for.
A few big size ones come with tyres at one end so that the kids can roll them even when full throughout the room.
Ones it is full they can be stacked at a corner of the room. These are easily stackable over one another too.
As a result they will save space also.
Cube design:
for those parents who like to keep things symmetric. The boxes are all the same size in different color.
All can be stacked in a rack in an organized manner. They externally look very neat and tidy but can be a little difficult for the kids to use.
As without opening them fully kids will not be able to find out any toy and a result they will tend to spill all the contents repeatedly.
So it may increase your work rather than reduce it.
But if your kids are old enough to have books and other stuff then you can ask them to fill in same size stationary, colors, books etc.
Shelf storage:
you can obviously try out the old school but very effective way of making shelves for kids.
Keep the height low according to the kids and also try keeping different heights and lengths so that they can keep different kinds of toys.
This storage is very useful as the toys are visible to the kids all the time.
Though the storage capacity may vary an it may take more space than bins but still it is very useful.
Once installed you can be carefree for many years. There is very low or almost no maintenance required.
Fabric cupboards:
these are cupboards and racks made of fabric. As the toys are mostly light weight they can be easily accommodated in these racks.
There can be fabric bins too. But just be sure to keep safe guard from sharp edge toys as those may tear it apart.
Also do not keep very heavy toys on the top shelves as the weight may tear it too. Keep the bigger ones on the last rack close to the floor.
Covered bins:
You can buy a few translucent with covered bins for very small articles of the kids.
Toys like small cars, dolls or accessories of the dolls, ornaments of kids, their own accessories etc all can be organised by the help of these bins.
The translucent nature will help the kids to see from outside before opening what they are actually looking for. 
Themed closets:
sometimes it does happen that our kids are obsessed with a certain character of the cartoons or a certain movie.
So as to motivate them to clean even in a better way you can buy them a theme based closet of their favorite cartoon. 
Create a book shelf:
for the kids who can read and write you can create a small study are with a chair and table so that they can study and do creative work there without really creating a mess all over the place.
Close by you can make a book shelf with books and also their craft stuff for easy access.
---
Remember to give ample appreciation each time your child cleans up after himself or herself.
This shall motivate them to do even better the next time.
Give them a hug or a candy and you see these little puppets do wonders. Hope you likes these toy storage for kids ideas.
Have fun playing with kids!