Hey everyone and welcome back to natkhatduniya. Todays post is for grown ups. Today we talk about Top 5 computer games – Best PS4 Games
Gaming has become a hot topic nowdays. Web series, movies, novels and games are probably the best options to cool off after a work-from-home or a day of online classes.
If you are looking at gaming consoles, you can may look at the blog – Top 5 Gamepads – Five Best Game Controllers for gaming enthusiast
You can buy the games I've mentioned from Amazon.com/in for PS4 and XBox.
The games come for PS4, XBox and PC. The PC games, however, will be available on Steam, Epicgames, HumbleBundle, Origin etc.
Best computer games – Best PS4 Games to buy
So, here's the Top 5 computer games – Best PS4 Games which I think you should give a shot:
1) Ghost of Tsushima – My choice of Best PS4 Games
This is number one in my list of Best PS4 Games.
The Mongol empire laid waste to whole nations in the late 13th century during their effort to invade the East.
Tsushima Island will be all that exists between Japan's mainland and a massive Mongol invading fleet led by Khotun Khan, a brutal and shrewd General.
As the island burns in the wake of the Mongolian assault's first wave, samurai warrior Jin Sakai ranks among his clan's last remaining survivors.
He 's determined to do whatever it takes to protect his people and reclaim his home, at any cost.
He must put aside the rituals that molded him as a warrior to find a new course, the Ghost 's way, and fight an unorthodox battle for Tsushima 's liberation.
This game is fairly new and has an average rating of 4.8 stars!! It's one of the best selling games in the US, even beating Call of Duty across it's 3 platforms.
According to NPD, it's the 5th best selling game of this year already.
This game is ONLY available to PS4 users and costs 4000Rs. on Amazon.in but is running on discount. So check the price.
With an amazing storyline and graphics that will certainly blow you away, you should definitely put this one on your list.
2) FIFA 21 Standard Edition – One of the top rated & best Ps4 Games
Number 2 on my list of Top 5 computer games is FIFA 21 standard edition.
The unveiling of the new FIFA title-FIFA 21-is expected in 2020, and excited players still have it on their wishlist, while EA Sports boffins focus on the finer info.
FIFA 21 will be released on October 9, 2020, having been pushed back from its usual late September slot after EA Sports' plans were disrupted by the coronavirus.
Early access is typically given to anyone who pre-order the game. FIFA 21 Early Access will be released on October 6th.
Want to check the current price – click here
FIFA 21 will be available to play on PS4, Xbox One and PC. It will also be released on the next generation consoles PS5 and Xbox Series X.
Gameplay has had an upgrade with introduction of new attack features for a smoother gameplay such as:
Agile Dribbling
Positioning Personality
Creative Runs
"Competitor mode" will alow the opposition to have better tactics and capacity to pull off skill moves, making the game much more competitve.
Despite being present in the 2017 version, the video assistant refree (VAR) will not be present.
This game is available to all PS4, XBox and PCs. It is available currently on Amazon for about 4000Rs for PS4 and same price on Steam.
https://store.steampowered.com/app/1313860/EA_SPORTS_FIFA_21
3) Marvel's Avengers – A must have PS4 game
Number 3 on my this list of Best PS4 Games is from Marvels stable.
Marvel's Avengers is an exciting, third-person, action-adventure game mixing an original, immersive narrative with one-player and cooperative gameplay.
Assemble online into a squad of up to four members, learn exceptional abilities, customize a roster of Heroes, and protect the Planet from rising attacks.
The game includes an online co-op mode, which allows players to create their own squad of heroes.
The initial playable characters include Steve Rogers / Captain America, Tony Stark / Iron Man, Bruce Banner / Hulk, Thor, Natasha Romanova / Black Widow, and Kamala Khan / Ms. Marvel, with more becoming available to players post-launch.
This game is available on all 3 platforms, PS4, XBox and PC.
This game will be compatible with the new gen of consoles as well and buyers will be able to upgrade their version for free.
The game is available on Amazon and Steam for 4000Rs.
https://store.steampowered.com/app/997070/Marvels_Avengers
4) F1 2020 – A cool one
And number 4 in top 5 computer games is of course F1.
To those who love sim racing, welcome to the world of Formula One! The pinnacle of Motosport racing, where the highs are very high and lows are very low.
Dvelve into the world of racing with literally the worlds fastest cars, Pick on of the world's 20 best drivers and race again real players from all over the world or against AI which range from super easy to a level that will make your palms sweaty.
Start your career with your own team with the help of "My Team" option or as a F2 (Formula Two) driver. For the first time, players can create their own F1 team by creating a driver, then choosing a sponsor, an engine supplier, hiring a teammate and competing as the 11th team on the grid. Build facilities, develop the team over time and drive to the top.
With improved realistic grahics and mistake my by AI, you are surely going to enjoy the game.
New DLC cars have been added with two new tracks , Vietnam and Dutch Grand Prixs (Hanoi Circuit and Circuit Zandvoort).
The reintroduction of split screen will bring back memories and will give you a chance to show that you're the better driver.
This game is available on Amazon and steam
https://store.steampowered.com/app/1080110/F1_2020
5) Uncharted 4: A Thief's End Playstation Hits – In budget PS4 game
And last in my list of best PS4 games is.
Set three years after Uncharted 3 events: Drake's Deceit, Nathan Drake probably has left behind the realm of fortune hunting.
It doesn't take long for destiny to come knocking, however, when Drake 's uncle, Sam, resurfaces wanting his aid in saving his own life and giving Drake an adventure he can't wait.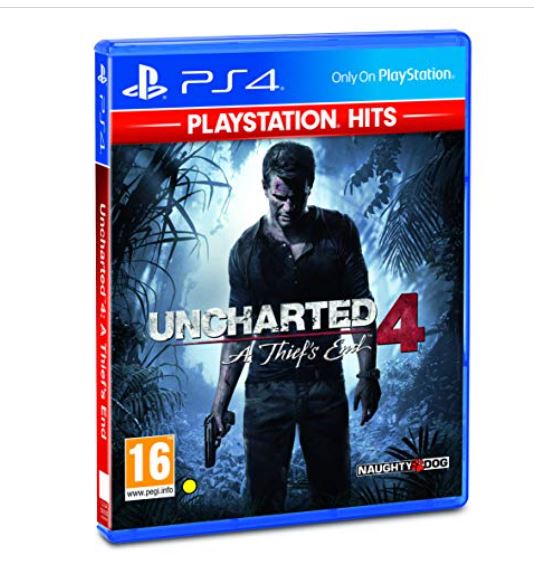 In the quest for the long-lost treasure of Captain Henry Avery, Sam and Drake set out to discover Libertalia, the pirate utopia deep inside Madagascar 's mountains.
Uncharted 4: A Thief's End sends players on a trip across the world, in search of Avery 's riches, through desert islands, far-flung towns and snow-capped peaks.
This game is so amazing that it's considered the last of it's kind. It has amazing graphics and an amazing storyline that'll blow you away.
This game is only available on PS4 for 1000Rs.
So, there are the top 5 games right now, if you find this blog helpful and you think it can help other as well, please do share and let me know whic game do you like the most
---
Agree, with me, F1 2020 is the best ??
You will also like below article:
---
---
You may also be interested in : STEM Toys