Today I am going to talk about BeyBlade . I am sure if you have kid above 3 or 4 years of age, he/she would have asked for it. Let us look at the history of these beyblade toys and why it has become so popular.
Please note that the source of my research is internet. Wherever possible, I have tried to provide the link of the source.
Wikipedia defines it as "Beyblade is a brand name for a line of spinning top toys originally developed and manufactured by Takara Tomy, first released in 2000. The toys usually include a 'launcher' – a device for bringing the spinning top up to speed, with either a separate or integral rip-cord. This 'ripping' action causes the tops to be ejected, at the end of the movement. "
You can check out these Beyblade Toys of Amazon – Click here !
Beyblade came into market in 2000. It was created by Takara Tomy from Japan.
There was an animated TV series as well with the same name and almost at the same time. The television series was the promotion for the game.
Initial version of BeyBlade Toys
The initial version of the toy was quite simple. Broken down into 4 parts called as "Blade Base", "Weight Disk", "Attack Ring" and "Bit Chip". Before we analyze what these parts do, it is important to know how this toy is played.
Though beyblade can be played single, it is essentially a team game. There is a small "tub/deep plate" like container which is used to host beybalde.
Players launch their beyblades in this container.
These beyblades hit each other while spinning. The one which spins till end is the winner. So this is the simplest way to play BeyBlade Toys.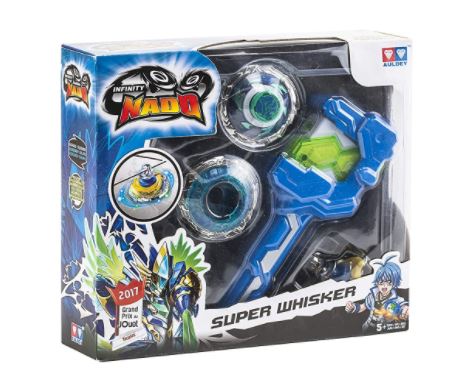 Coming back to 4 parts. The base effects the way BeyBlade Toys moves, the weight disk provides the heft.
Attack ring effects the behavior of the toy when they hit each other while spinning and the bit chip is just for decoration.
Beyblades come in different type ie. Attack, Defense, Stamina and Balance and as the type name suggest, every type is meant for a different purpose.
For example Attack type has attack ring designed in such a way that they try to knock down other type as fast as they can.
Different versions of BeyBlade Toys
Beybaldes have evolved a lot after the basic version. Beybaldes evolved with series. There are S & F Series and then came V-Series which introduced Magnacore system (MG).
With G-Series came Engine Gear System. There are various Engine Gear Types. Then there came Hard Metal System (HMS) and Performance Top System (PTS) and Extreme top system (XTS).
All these series has some improvement over other or some change in design to make the BeyBlade Toys behave different.
Then there are some un-official rules around beyblade battle 🙂 like, in a beyblade battle, all the beyblades should be launched together, after get set go …There are various websites around by beyblade fans ..check those out.
Beyblade toy is a fun game and it actually helps in child development
Helps increase concentration
Helps hand to eye coordination
Helps in social interaction by team play
Entry barrier is less and only one toy is needed
Kids can start with basic toy and then graduate to more advanced toys
One important point to note. There are many fake beyblades in market which can cause injury.
The reason is that these toys spin at great speed and if the quality is not good they tend to break and shoot resulting in injury.
Fake beyblade toy may also contain toxic chemicals. So please be careful.
Look for logos, such as Takara Tomy, Sonokong, and Hasbro. They are authorized manufactures of these toys. If you don't see logo, then better to be careful.
So go ahead, gift your kid the most popular spinning toy in the world!. Do share your experience!
Beyblade toys buy online – cool Bayblades below
---
You may also like: Special toys – Toys for kids with Auditory Processing Disorder