This is fun, isn't it. Teaching your little one to learn alphabets. Making them understand letters, is to guide them towards their learning path. They slowly start reading and writing. Making them understand letters are one of the basic requirement of early childhood.
While, other activities like, walking, talking etc comes instinctively , understanding letters in one activity which need support from parents/guardians
As a kid we must have been taught to recognize alphabets by our mother , grand mothers and I am not sure how did they do it so effectively. We did learn well right 🙂 🙂
OK, that was on lighter note. Today we have many simple toys which can help us with this activity.
In-fact many of them, we buy it, but do not really make full use of it. For example stacking blocks with alphabet labels. We buy it and forget. They are a good tool in helping your kids learn.
So lets look at some of these simple toys.
ABC Blocks / Alphabet Stacking blocks
Very simple learning tool. Choose a set which has big blocks made up of wood or high quality plastic. Helpful in learning alphabets or counting (A to Z / 1 to 9). Make sure that it has bright colors so that it attracts the kid. Show him/her the block and try to read out the number or the alphabet loudly asking him/her to repeat. It's a fun exercise.
Check this out: http://www.amazon.in/Nippon-ABC-Blocks/dp/B00H1IZ6HQ
Alphabet Abacus
Have you heard of these? Yes Alphabet Abacus. Well it does not do what an abacus does, but it is organized that way. But it is a good toy. Let the child spin the blocks to identify various letters. Arrange the blocks to make some imaginary and fund word. Multi color spinning blocks will attract her/him. Have you seen this before. Look at the picture below.
You can buy it here : http://www.amazon.in/HICKOO-Hickoo-Abacus-Alphabet
Alphabet Candy
Do you remember this? I remeber this very well. During Diwali, my grand mother used to get hardened sugar candies from local market.
It used to be number shaped or alphabet shaped (ofcourse in one the Indian language).
I am not sure if you have seen this at your village or local market and they exist now!. But it was fun. I used to eat  1, 2 , 3 ..like that all kind of alphabets.
That was real fun. While searching I found that there are candies and chocolates now available in this shape.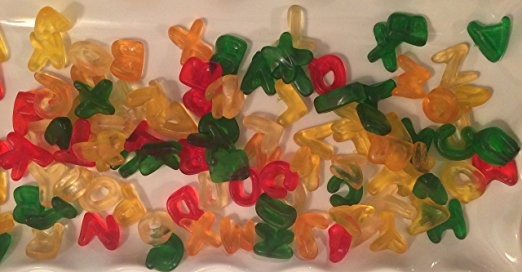 Puzzzles
This we all are quite familiar with. Flat blocks which can be arranged in a specific fashion which makes sense and helps kids understand what comes after what. Arranging the alphabets in a sequence helps them understand sequence in which letters are arranged.
There are multiple types of these games available over internet. Starting from budget ones to costlier ones made of wood hardened glass. Since kids tend to get bored with one toy, I suggest that you buy multiple types budget puzzles.
Alphabet Book.
And then comes the book. You start buying those as soon as you realize that your angel is more than a year old now. But do you really read that to her? Buy a good hard cover little alphabet book and read to her daily.
We have always in our blog, tried to map these activities/toys/games to the skill which is helps develop. And above simple toys target below
Cognitive skills
Learning numbers
Language skills – learning to read and make words
Fine motor skills
Hope you liked our post. Do send us your comments!
//NatkhatDuniya!