Academics are an essential part in the growth of a child. But it is very difficult to make them sit and study at one place. The kids generally have very short attention span. So as parents you will have to create such an environment for the child that he/ she would like to sit there longer. You can make a small study area for them. So let us look at top 5 study table for kids.
Why to get kids study table ?
Buy them a table chair set and a small cupboard to keep their books and stationary. This set of tale and chair will help their mind come to an understanding that they have to study here. The mind will automatically become calm and they will start to learn and study for longer intervals.
Now making kids sit on just about any table and chair will not be enough.
The table chair should be of the size of your child and it should be comfortable for them.
The material used should be sturdy and not very heavy.
The weight and design should be such that the child can independently able to manage the chair and table if they have to adjust it at times.
The design should be such that it is comfortable for the child to sit and study for a long time as well.
Also try to buy a design and size that will be useful for at least two to three years.
Top 5 Study Table for kids
Here are a few options available in the market:
Nilkamal apple junior study table
Nilkamal is a trusted brand in plastic furniture. The design and quality are good. Looking for kids study table online ? The study table set is available online as well for purchase.
You can select the colour of your choice. There are no small parts that a child can choke upon. The table can be used by up to the age 6 years. The table is made from virgin polymer. Storage space has been provided in this design. When the desktop is lifted there is a small storage area. The product comes with 6 months warranty. When you buy it online the set will need to assemble by you at home.
Kidomate kids study table chair
this table is easily available online. There are many colour options available such as pink, grey, green and blue. There is also an extended feature of a lamp which you can opt out. The table and chair both can have height adjustment.
This design can be used by kids up to the age of 14 easily. The design is very well executed such as to enhance and improve the sitting posture of the child. The height is adjustable and there is lock system to ensure that the chair or table does not slide back. There is anti pinch feature for the safety of the child. Different compartments have been given for storage.
The desktop is a tilt design, which makes it easy for drawing or painting. The option of lamp is useful where there is a little less light. It will reduce the stress on eyes of the child.
Kitsch Kitsch foldable table set
this is a set where a single table is accompanied with multiple chairs. If you have more than one child then buying this would be a good option. It can accommodate four kids at the same time. The set is very easy to assemble.
The set durable and strong. This set is foldable so it can be easily carried out doors also for picnic or camping. The set is suitable for age 2 to 6 years. There are no screws involved so it is a safe design for kids. The price range is pocket friendly. But it deos not come with any back support for the kids.
Furniture first American frozen team kids study table chair
this set comes with designs of super heroes. It is attractive and pleasing for the kids. They will enjoy having their favourite character with them while studying.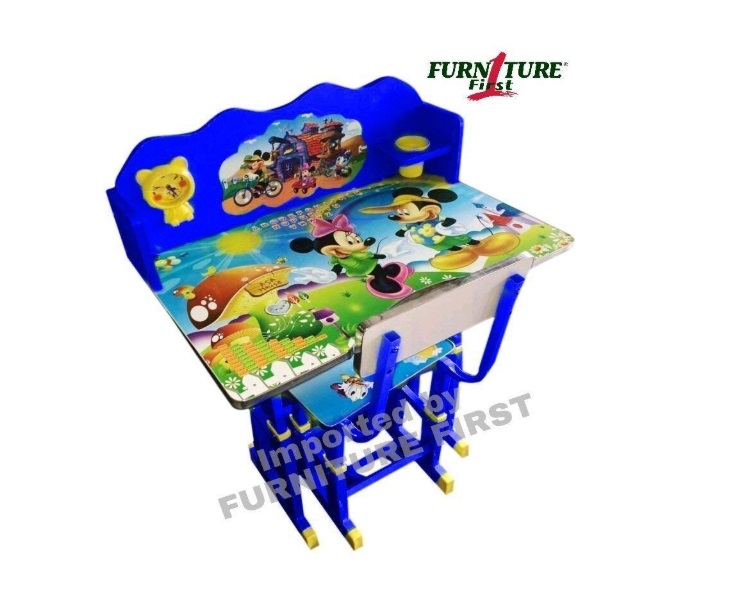 The design is sleek but very strong. Engineered wood has been used on metal frame. The table has additional features like clock, glass and abacus beads. The chair and table have height adjustment feature.
IRIS Spiderman Kids Table and Chair Study Set (Wooden Finish)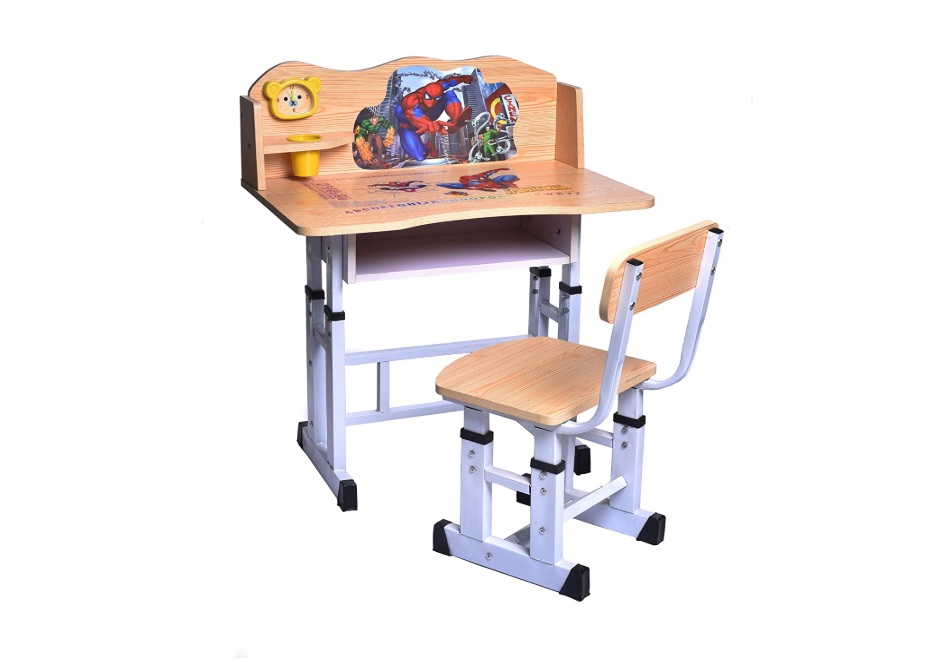 This table comes with a heavy frame and can handle a load capacity of around 50 Kgs. It is good for kids from 3 to 10 yeas of age. Can be used as study desk or a computer table. The Study Table Set Has a Sleek, Trendy and Functional Design, Which Makes It a Perfect Addition To Your Kids Room.
---
As a parent when you buy the product be sure to buy age specific products. If the height of the kids study table is not adjustable and you buy bigger chairs, the child may fall and hurt themselves.
Also look for the design to have smooth edges. There should be not sharp edges or small screw.
The material used in this kids study table, should be such that the stability and sturdiness are never a reason to worry. You can look for storage feature if you are not planning to buy a cupboard for the child. It will help the child keep all their belongings at one place and stay organised. It will save you the hassle of finding their stuff daily.
Lamp can be an added feature so that kids can study late in the evening. The cost should be pocket friendly. You must look for foldable or at least portable set so that kids can adjust them easily. The height adjustment and recliner are added features for the comfort of the child.
---
You may also like : Steam powered toy boat – A simple science toy
---
You may also like these kids study table chair on Amazon
1,813 total views, 1 views today