Looking for a fun activity set for toddlers? Friends let us look today at Jumperoo – A fun activity set for toddlers,
Jumperoos can be a really fun for babies. It can be used for kids 6 months and older, but it all depends upon your child. Few kids may be needed to be older enough to be sitting on this activity set.
How a Jumperoo looks? Well have a look at the below activity set!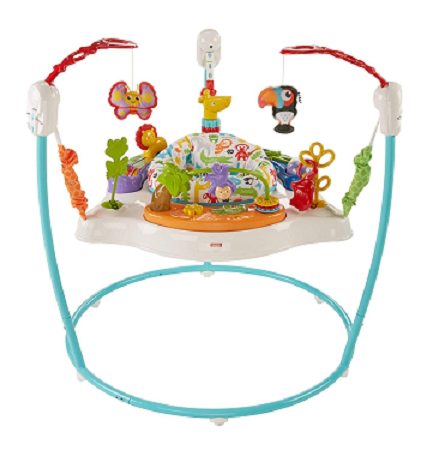 Made in bright colors and with various other fun characters attached, this makes an interesting activity set for the child. It arouses the curiosity in the child and helps in developing their gross and fine motor skills.
What is the right age for this toy?
Jumperoo – A fun activity set for toddlers, as we have said before, it all depends on your baby, but most of these toys recommend the age to be more than 6 months old.
Make sure that you check the age guidelines before and also there are many brands in market. So you need to make sure that it is of
good quality material and the primary material is plastic.
Bright colors ( contrasting colors make it more attractive)
It has adjustable jumping height
It lights up when the baby jumps
It plays music
You can also check if the set is foldable and can it be stored and used in a small place. This though not a very important consideration can influence your buying decision 🙂
Make sure that it is easy to assemble (if it needs and assembly and make sure that you check this with the shop before buying)
See if it has detachable and washable sear cushion.
Make sure that the seat cushion is comfortable, else it may hurt the baby
Also check if the set has 360 degree rotation capability as it helps the baby move freely and enjoy the toy.
Also check : best toys for 1 year olds
Hope you like our recommendations and also if you have used jumperoos before for your baby, do let us know your feedback.
Have a good day!
team@natkhatduniya