Have you ever used a walkie talkie? If not you would have obviously seen it at many places.
Walkie-Talkie is a two way radio which can be a great addition to the gadgets your child holds. Ofcourse it comes in set so you have 2 of them which is used by 2 persons to talk to each other. Walkie-Talkie works quite well with in short distance, so it is very good for places where the mobile phone signal reception is poor.
For example you are going for a camping and you will find that signal is not quite good and there this can be very helpful. It's an added safety feature of your trip.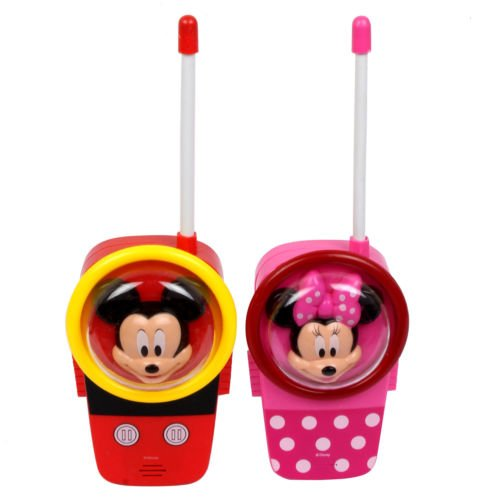 Camping is an example I gave, but for all practical purposes this can be used at many places
Camping is one which we talked about

Festival and Other events .. you do not want to get a mobile phone for your kid as they are too young for it. This gadget may fill in.

Same with Theme Parks and Gardens .. kids tend to play and run around. You can keep one with kids having the other one. This will help you make sure that you are always in contact with them

Kids also get excited with any new gadget and this gadget will definitely make them more excited and they can play in groups games like cops / security / army roles etc

This also gives the kids a sense of responsibility and Independence. They know that they have this on and need to report to their mom where they are 🙂

Nowdays kids start asking for mobile phone quite early on. This may help in filling that gap.
What to look at when buying a walkie talkie?
First and foremost look at the

charging options

. Batteries can be costly and if drains out fast, it can be a extra cost. Check if batteries are included. Specifically the re-chargeable ones. And the best is if it can be charged via USB or Charging point or has a charging station.

Look at the

Range

the seller has mentioned on the kit. Range is very important. Not that you can change the range, but you should buy the kit as per your range requirement

Also check what are the frequency available? You should consider this point if you are too worried about the privacy. Many cheaper ones available has one or two frequency and if any one else has a walkies talkie with same frequency they can also start communicating with your child. Many advance walkie takies have extra feature of a security code. So buy the one as per your requirement. If you are buying just for toy  then one frequency option is enough.

How easy it is to operate? This is also an important factor. You may buy a high end one with lots of feature. But if its not easy to operate then it is of no use. It should be kids friendly. For example does it has a display with light. Else you will not be able to use it in evening after dark.

Many advance version also have headset so that you dont need it to be on speaker. This can be an consideration

And in the end .. is it water proof? Some times if kids go out in rain.
It's a good toy and gadget to have. You may try to check these out if you do not have it already!
[amazon_link asins='B01JZF3DZY,B07377JJHT,B071NMCW8G,B01BD8S5J0,B018XHFCQS,B00E4FO2TW,B01HBGF27Q,B01ADUEB4C' template='ProductCarousel' store='010c7-21′ marketplace='IN' link_id='f9179712-8ad1-11e7-a4f7-436d909b4bbe']
-Kumar@Natkhatduniya