Looking for a unique toy for 3 year old child? Looking fto gift a child a very simple, yet a unique toy which has immense benefits. If your answer to above is all YES, the you should try Squigz!
So what is Squigz?
Squigz is a set of small pieces . And these pieces can be connected with each other to make unique shapes. But it is more…
So as the name suggest Squigz is a toy which sticks on any surface or to each other when pressure is applied.
And that gives the child the ability to stick them together and make various shapes out of them. These tiny pieces of rubbers can do wonders for Childs creativity.
---
Squigz – The perfect Birthday gift for a little champ
If you look at the picture below it says – Squigz – the fun little suckers. Yes they are small rubber pieces which work on the principle of suction.
These pieces from fat brain are quite good in quality. This toys makes a perfect birthday gift for your little hero !
These pieces comes in various color and shapes and sizes making them a fun activity to connect with each other and create various shapes.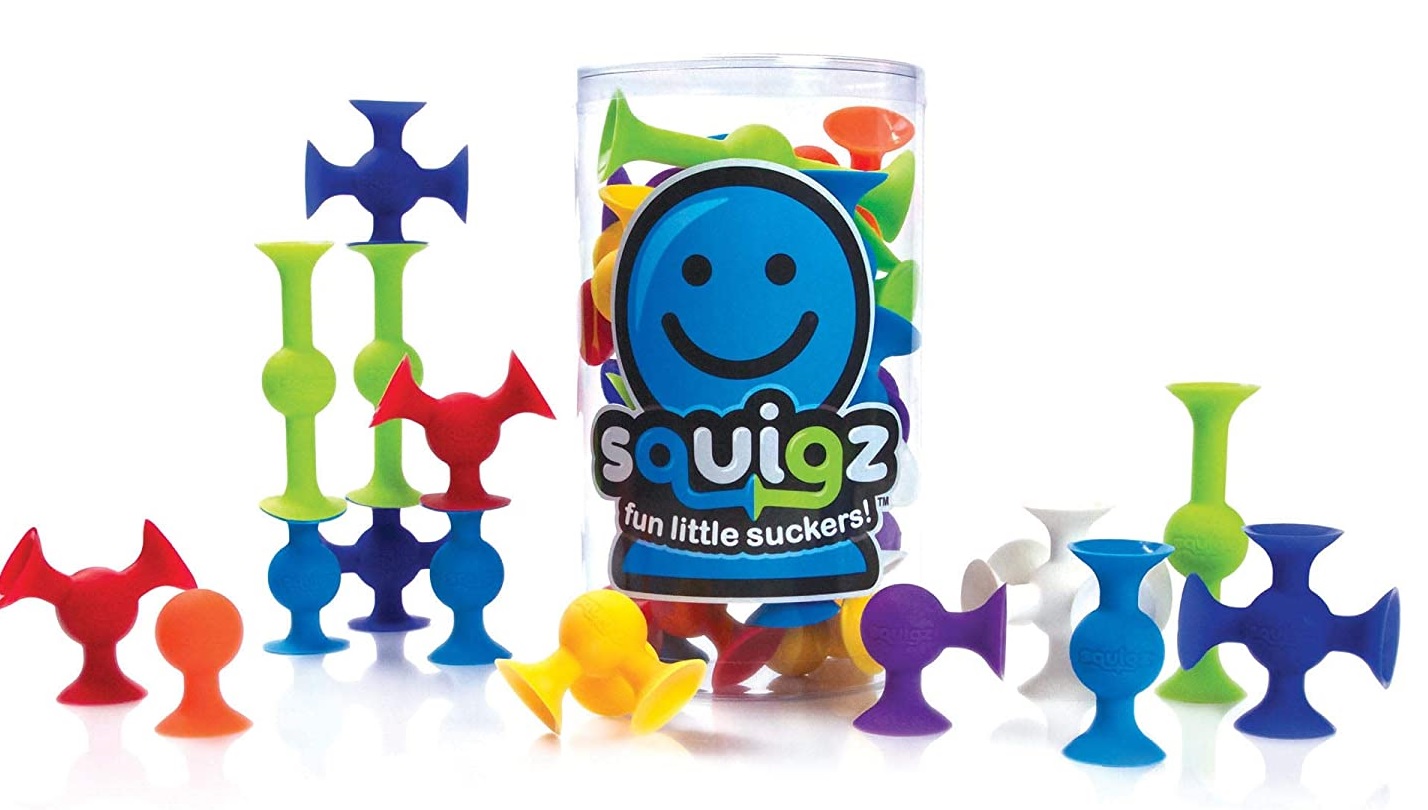 This product from fatbrain toys is a lively toy set. You can buy them easily on various online and offline stores. On Amazon it is available at some good discount.
Squigz is a mentally stimulating toy for 3+ years kids. Some of the benefits with these toys are below. And these are immense benefits if you see.
Encourages creativity : You child can make various shapes and that helps improve creativity,
Helps in develop fine motor skills – Hand and eye coordination is one of the most important skills to develop as a kid and this is a perfect toy to improve that.
Helps to develop concentration – This also helps a lot in developing concentration of the child.
Provides sensory stimulation – And at last I would say that it is one of the best toy in the market for sensory stimulation.
It's good for strengthening toddler hands when stuck on the ground and pulled it actually simulates the muscles. Because of color variety it is actually very attractive for the child.
They can stick it on floor, stick it on table, stick it on walls. I mean anywhere , it just converts a place into a play area for you little one.
It is truly a simple yet unique toy for 3 year old.
The suction power is very good and hence it lasts long and is very useful. Provides multiple ways to imaginatively play with it.
It's great fun for the kids they can make tons of fun things out of this game.
---
It comes in a set of 24 pieces or 50 pieces (starter set has 35 pieces and delux set has 50 pieces). Or you buy individually as below.
Every type has a name!
Push them together to build wiggly wobbly creations and then pull them apart to hear them POP,
There is a nice vedio on youtube which explains this toy a bit more. Do watch this one minute vedio.
Squigz is a very simple toy with a very simple idea but the learning potential it has for the child is just great. It will become one of the best learning tool for your child. Do try these out.
I have been saying , unique toy for 3 year old, but in a way it can be a fun for any one. For older kids and for us as parents it will be a fun time to sit and play with kids as you can see in the video.
Try Fat Brain Toys Squigz 2.0 – 36 Piece, These are three dimensional pieces and can take your Childs creativity to a new level.
Hope you will like this toy. It is available on almost all the ecommerce websites and toy stores. You kid is going to love it for sure. Just make sure that you get this only for three plus year old child. The pieces are small and hence below that age is not recommended.
Have a good day!
-kumar
---
---
Check out – Moral stories for kids